Page 6 - 2021 Annual Report
P. 6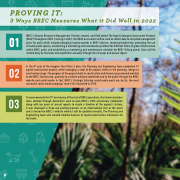 Going for the gold
  06
Essay Questions from the National Recreation and Park Association's (NRPA) Gold Medal Application
Unique Park System:
What BREC Does Really Well
• SERVING THE COMMUNITY: By offering thousands of free and affordable healthy events and programs, BREC served more than 1-million people in 2021 in a state consistently ranked highest in poverty and poor health.
• HOLDING STORM WATER: A recent evaluation found BREC's land held nearly 10 billion gallons of water during a historic flood, enough to fill Tiger Stadium 71 times.
• ACTIVELY INCREASING GREEN INFRASTRUCTURE: BREC earned a $4.7-million watershed initiative grant to enhance the largest construction project in BREC history to protect against future flooding.
• LEVERAGING TAX DOLLARS: BREC has been a good steward of tax payer dollars through partnerships such as housing the main library, children's museum, parish-wide soccer program, bike-repair work study program, an urban farm community, the first litter boom in a local watershed and many others in its parks.
• SETTING THE STANDARD: BREC was among the first park agencies in the nation to earn national accreditation, becoming re-accredited for the sixth time in 2019.
• BEING UNIQUE: Through a mix of parks and facilities which mirror the history and rich natural resources in south Louisiana including a swamp nature center, observatory, equestrian and RV park, performing arts theatre, arboretum, botanical garden, water park, five golf courses, 30-thousand square feet extreme sports park and much more BREC proves to be a leader in the field.
• PROVIDING CONNECTIVITY: BREC is working with state and local partners to implement a bicycle-pedestrian master plan to add 450 miles of connectivity trails in the parish.
• SERVING DURING DISASTER: During times of historic flooding, major hurricanes, devastating ice storms as well as the pandemic, BREC offers emergency camps, virtual programming, mobile recreation units to shelters, distribution of meals and supplies in parks, expansion of free WiFi across the parish and shelter and staging. BREC received FEMA funding to create strategically located state-of-the-art recreation centers which will house emergency responders during disasters. These two buildings are currently in design.