Page 17 - 2021 Annual Report
P. 17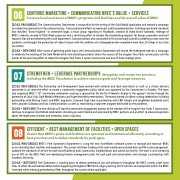 01
Fiscal Responsibility
Continue to place a priority on the wise use of taxpayer dollars.
[2020/2021 PROGRESS] In 2017, BREC's executive leadership embarked on a project to completely modernize BREC's administrative processes by implementing software systems to replace manual and paper-driven processes. Several implementations, including the financial and human capital management system and new Golf and Zoo sales software systems, were underway when the COVID-19 pandemic began. BREC's IT team was able to move quickly to equip staff with the technology needed to continue the implementations through remote meetings. The new Golf and Zoo sales system as well the new financial and human capital management systems went live in 2020 and 2021, respectively. Additionally, BREC's Planning & Engineering team secured over $12 Million in grants for building greenways and implementing green infrastructure design practices to assist with localized flooding.
[2022 + BEYOND] Other software implementations, including a new asset management software system that integrates with GIS and a new capital project management software are currently in implementation. The systems will allow the agency to make more data-driven decisions, be more transparent, and save paper as well as fuel.
02
Programs Continue innovation in recreation programming.
[2020/2021 PROGRESS] BREC commissioned an updated parish-wide needs assessment survey, the results of which were used to develop annual program and event calendars by aligning them with new trends, market demands and community-wide needs. In 2020, the COVID-19 pandemic forced the closure of all indoor facilities and cancellation of in-person events for the first half of the year. Recreation quickly adapted, creating virtual camps, programs, and events to serve the community until socially distanced in-person events and programs could resume. Throughout 2020 and in 2021, BREC continued offering a mix of virtual and in-person offerings.
[2022 + BEYOND] The Recreation Department has a new data division to track usage and survey responses and to spot trends to better serve customers, report to and advise BREC leadership, and tell the story of how BREC serves diverse populations across East Baton Rouge Parish.
 03
KEEP QUALITY + ACCESSIBLE PARKS + FACILITIES
Continue to raise the standard for parks and recreation facilities and ensure equitable access to park and recreation experiences across the parish.
[2020/2021 PROGRESS] The seventh year of Imagine Your Parks2 closed with 88 capital improvement projects under construction, out to bid, in the design phase or completed despite the pandemic. BREC's Planning and Engineering department worked with partner agencies to gain approval for a parish-wide bike/pedestrian master plan aimed at creating 450 miles of connectivity trails, over 200 of which will be BREC greenways. To date, 24.79 miles of greenways have been built with 20 more miles currently in planning or construction. BREC's Planning & Engineering team secured more than $7 million in grants for a trail to connect Downtown to an underserved area. Additionally, a 7-mile trail that will connect multiple BREC parks throughout a disadvantaged area of town is currently in planning with a great deal of community engagement from local grass roots organizations. Construction began on a historical $40M project to revitalize BREC's Baton Rouge Zoo and surrounding park located in an economically disinvested area of the parish.
[2022 + BEYOND] BREC is currently working with the local public school system, which is one of the largest school systems in the state, to plan more joint use of public land for recreational purposes, beginning with a new 'school in a park' that is currently in planning. Other large-scale projects include the largest single project in BREC's history to renovate the Zoo and the surrounding Greenwood Community Park; adding a 13th community park to the BREC system; a new multi-million-dollar nature center at its largest conservation area; an elevated swimming pool and recreation center in an underserved community greatly impacted by the Historic Flood of 2016 and much more.