Page 17 - BREC's 2019 Annual Report
P. 17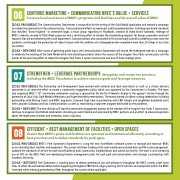 KEEP QUALITY + ACCESSIBLE PARKS + FACILITIES
Continue to raise the standard for parks and recreation facilities and ensure equitable access to park and recreation experiences across the parish.
  Strengthen Natural Resources
Strengthen + increase natural resource related recreational opportunities.
2018/2019 Progress: In 2018, NRPA conservation consultants reviewed BREC's growing program. Based on their recommendations, the BREC Commission approved separating programming and resource management into two separate departments with increased staffing. In 2019, BREC created the Conservation Outdoor Recreation and Education Division (CORE) in the Recreation Department and the Natural Resource Management Division in Planning and Engineering. This has more than doubled the staff responsible for natural resource management which is also bolstered by the creation of the Green Force trained volunteer corps that helps with the creation of natural trails, the elimination of invasive species and other natural resource management initiatives.
2020 & Beyond: Begin updating the Natural Resource Management Plan and new management practices, taking into account BREC's new Level of Service Standards, GIS protocols, management plans and resiliency initiatives.
   2018/2019 Progress: BREC's Commission approved a comprehensive ADA transition plan to ensure accessibility at all 180+ parks and began implementation in all new construction projects. The fifth year of Imagine Your Parks 2 closed with 83 capital improvement projects under construction, out to bid, in the design phase or completed. BREC's Planning and Engineering department has also worked with partner agencies to create a parish-wide bike/pedestrian master plan for transportation and recreation and made significant progress on the creation of a comprehensive GIS system, completed a needs assessment survey to update levels of service in parks and ensure equability, and created a new Natural Resources and Land Management division that has been working on a comprehensive resiliency plan.
2020 & Beyond: Adoption of the Bike/Ped Master plan from the Metro Council and BREC Commission, begin construction on the first phase of the largest construction project in BREC's history to renovate the Zoo and adjacent park in an underserved area, hiring an ADA Coordinator to implement the transition plan and address other ADA matters.