Page 18 - 2021 Annual Report
P. 18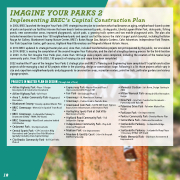 04
STRENGTHEN NATURAL RESOURCES Strengthen and increase natural resource related recreational opportunities.
[2020/2021 PROGRESS] After NRPA conservation consultants reviewed BREC's growing program, the BREC Commission approved separating nature programming and natural resource management into two separate divisions with increased staffing. BREC created the Conservation Outdoor Recreation and Education (CORE) division in its Recreation department and the Natural Resource Management Division in its Planning & Engineering department. This has more than doubled the staff responsible for natural resource management, which is also bolstered by the creation of the Green Force trained volunteer corps that helps with the creation of natural trails, the elimination of invasive species, and other natural resource management initiatives.
[2022 + BEYOND] BREC implemented its first of what will be on-going prescribed burns of a natural grow area in order to return nutrients to the respective soil and increase the production of wildflowers, which attract pollinators, save maintenance costs in parks, and attract natural wildlife. Continued implementation of the newly completed Natural Resource Management Plan, and the completion of the new nature center at BREC's Frenchtown Road Conservation Area.
05
CONTINUE ENHANCING TRAIL CONNECTIVITY Enhance connectivity by improving the network of multi-use trails to, within, and between parks and community assets.
[2020/2021 PROGRESS] BREC played a lead role in the creation of a 450-mile, multi-agency comprehensive trails network to create connectivity across the entire parish. BREC's current system includes more than 200 miles of multi-use trails, concrete walking paths, walking loops, an indoor walking track, hiking trails, nature trails, mountain bike trails and equestrian trails. BREC received a $3.7-million Congestion Mitigation and Air Quality trail grant which will ultimately connect the HBCU Southern University in the northern part of the parish to Louisiana State University in the south. The seven-mile trail will connect to other trails, creating connectivity in the urban core of the parish. BREC's partnership with the e-bike sharing company Gotcha Bikes was pivotal during the pandemic as bike riding and trail usage saw a significant increase during the pandemic.
[2022 + BEYOND] Implementation of the parish-wide bike-pedestrian master plan is in full swing with BREC's Assistant Director of Urban Trails securing several land donations/land use agreements and conducting intensive public engagement for an iconic park that will serve as the trailhead at the start of the 7-mile CMAQ trail construction, which should begin in 2022 along with several other sections of the plan.