Page 18 - BREC's 2019 Annual Report
P. 18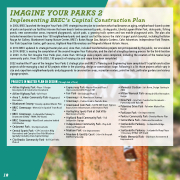 CONTINUE ENHANCING TRAIL CONNECTIVITY
Enhance connectivity by improving the network of multi- use trails to, within, and between parks and community assets.
2018/2019 Progress: BREC is playing a lead role in the creation of a comprehensive trails network to create connectivity across the entire parish. BREC's current system includes 65 miles of multi-use connectivity trails, concrete walking paths, walking loops, indoor walking track, hiking trails, nature trails, mountain bike trails and equestrian trails. BREC received a $3 million CMAQ trail grant that will eventually connect the HBCU Southern University in the north part of the parish to Louisiana State University in the south. The seven- mile trail will connect to other trails creating connectivity in the urban core of the parish. BREC is also partnering with the Department of Transportation and a local philanthropic organization that will take the lead on transportation bike trails in the community while BREC takes the lead on recreational trails. The two trail systems will be strategically linked. BREC partnered with Gotcha Bikes to place bike-share stations in 7 BREC parks.
2020 & Beyond: The parish-wide bike-pedestrian master plan, which will encompass 100 miles of new off-road trails and bikeways, will be adopted and implementation will begin with identified high priority projects. The masterplan is a 20-year time horizon.
                           CONTINUE MARKETING + COMMUNICATING
BREC'S VALUE + SERVICES
Increase local awareness of BREC's programs and facilities and the overall value of BREC.
2018/2019 Progress: After a complete update of design standards for the agency, the Communications Department assisted Planning and Engineering in revamping brand standards for signage in all parks to maintain a consistent look, incorporate wayfinding, and eliminate sign clutter. After holding focus groups to revamp the BREC Playbook, the Communications team repurposed magazine racks purchased from defunct print publications and increased the placement of the program guides to 89 restaurants, grocery stores and businesses in addition to the guides placed in the community through the Recreation Department. The racks must be continually refilled, and the department ran out of 2019 summer guides one month before the Fall guides were printed. Communications also implemented software systems to manage the design process, Volunteer Program and Print Shop to better track and measure the results of its efforts.
2020 & Beyond: Communications will issue an RFP for a consulting company to evaluate its processes and procedures, review its comprehensive marketing strategy, looking at branding, web and social media efforts, and all policies and marketing plan processes.