Page 19 - BREC's 2019 Annual Report
P. 19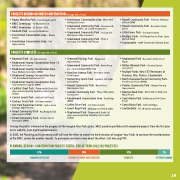 STRENGTHEN + LEVERAGE PARTNERSHIPS
Strengthen and create new partners, including the BREC Foundation to achieve common goals and leverage resources.
2018/2019 Progress: In 2019, BREC's Internal Process Review Manager worked with Pros Consulting to create a plan for maximizing and strengthening existing partnerships and discovering opportunities where additional partnerships can optimize our services to the community.
2020 & Beyond: The Internal Process Review report led to the BREC Commission approving a recommendation to create a Partnership and Development division of BREC. The first position is that of a Director who will take the results of the evaluation by Pros Consulting and create policies and procedures to govern partnerships and sponsorships as well as a plan to strengthen current relationships, develop new ones and seek out sponsorship opportunities. This division will also support and streamline fundraising efforts by its respective fundraising partners.
                       19
      EFFICIENT + BEST MANAGEMENT
OF FACILITIES + OPEN SPACES
Ensure that BREC's parks and facilities are operated and maintained efficiently according to best practices and to define standards for park types.
2018/2019 Progress: BREC's Park Operations Department updated the standards of service for each classification of park: community, neighborhood and special use facility. Trained maintenance staff are required to meet those standards on a weekly basis. Park Ops efficiencies continue to save BREC money through outsourcing the mowing of small, neighborhood parks and other properties, auctioning outdated or broken equipment using an online auction system, utilizing a fuel card saving BREC $50,000 per year in fuel usage and eliminating the need for on-site storage of gas at BREC facilities and naturalizing nearly 100 acres in more than a dozen parks and facilities.
2020 & Beyond: Park Operations is utilizing technology through the creation of dashboards that allow real time tracking of the progress made toward achieving maintenance standards by measuring mowing cycles and including data showing staff leave time, weather conditions and equipment downtime to measure the impacts. Park Ops will also track staff training, fleet management and employee turnover and will continue utilizing volunteers to evaluate parks on cleanliness, safety and other maintenance issues. That data will be used to improve maintenance processes where necessary and to create a report card that will be posted online for the public to see.