Page 11 - 2021 Annual Report
P. 11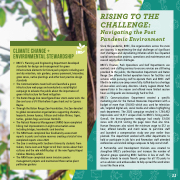 11
     Focus on Creativity:
Creating Solutions Through Innovation
To demonstrate BREC's commitment to diversity, equity, and inclusion BREC participated in a Disparity Study which reviewed contracts and purchases in partnership with the City/Parish. Following the review, a Statement of Equity was written and adopted by the BREC Commission in January of 2021. A Small Business Opportunity policy was also adopted requiring that disadvantaged businesses (DBE) are given the opportunity to compete for BREC contracts and purchases. BREC currently utilizes 21% of disadvantaged businesses in the parish. The Disparity Study recommended increasing that to 33%.
To strengthen conservation efforts, BREC created the Green Force, a trained volunteer group dedicated to creating more native natural areas in EBR Parish. The program works with the Louisiana Master Naturalists providing volunteer opportunities to graduates. Despite the pandemic, Green Force volunteers provided 1,637 volunteer hours in 2020 and another 1,700 in 2021. New volunteers complete an 8-hour training course with existing members taking a recertification course. They were especially valuable in 2020 acting as trail ambassadors when trail use drastically increased during the pandemic, and in 2021 when Hurricane Ida caused damage to every nature trail in the BREC system. Other park systems in the state are now replicating this program.
BREC repurposed the significantly underutilized Howell Golf Course, located in an underserved area with high poverty and crime rates. The 114-acre park now offers an adventure playground, state- of-the-art outdoor fitness equipment, heavily utilized trails and fishing pond, sports areas and First Tee area, preserving part of the golf course. A 4-acre urban farm provides fresh fruits and vegetables to the surrounding food desert, and a new recreation center, swimming pool and pool house are in construction. BREC is also combining two golf courses in another underserved area as part of a $4.7-million watershed project to protect nearby homes and businesses from flooding.